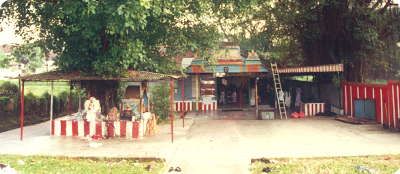 The Temple's historical background traces back to 84 years with its humble beginning in Sembawang Estate 12th mile, ahead of the Japanese Occupation. Then a timber statue was being worshipped by some Hindu estate workers. Later it is said that some senior estate workers made the statue of Sree Maha Mariamman from cement and placed Her in a small shrine within a rubber estate. The Temple then served as a focal point for the Hindu estate workers in the Sembawang Rubber Estate area.
When the Japanese occupied Singapore from 1941-45, the Temple could not be properly managed at the 12th mile for various reasons, including lack of funds. Hence, it was moved to the 7th mile of Sembawang (now popularly know as Sembawang Hills Estate) which then had a larger Hindu population residing there.
Again, when most of the regular devotees of the Temple moved out to other parts of the island so as to be nearer to their new work place, patronage further dropped.
Sometime in 1947 the statue of Sree Maha Mariamman was reinstalled and reconsecrated at yet another new abode at Nee Soon (Mandai Road).
During the period between 1950 and 1960 or thereabout, the Temple saw two consecration ceremonies for two different reasons. The first one was after the replacement of cement statues with granite statues specially ordered for and made in South India. Besides Sree Maha Mariamman, the statues of Sree Sivan, Sree Krishnar, Sree Vinayagar and Sree Murugan were also installed. The subsequent consecration ceremony was performed after the Temple was salvaged from a dilapidated state.
The formalisation of the Temple and its Constitution was done in 1965 when the Institution was officially registered with the Registrar of Societies. Few years later in 1971, the Temple received a major overhaul with extensive renovations. In conjunction with this restoration, another consecration ceremony was conducted. This time around a "Kalasam"(vessel) was installed at the pinnacle of Sree Maha Mariamman's sanctum roof. Granite statues of Sree Nagar and Sree Saneeswarar were also installed during this period. Further in 1991, a Maha Kumbabishegam was performed when Navagrahams were installed.
When the site at Mandai was acquired by URA (Urban Redevelopment Authority) for redevelopment purposes, the Temple purchased a 2000sqm of land at 251 Yishun Avenue 3 from the Housing & Development Board on a 30-year lease at a cost price of about $500,000 (inclusive of service and stamp fees) in the year 1993.
Following this, the Management Committee led by Mrs Kalyani Ramasamy, spared no efforts to raise the required funds to build a new and permanent abode for Goddess Sree Maha Mariamman and other deities.
Transcending the vicinities of Mandai, the Temple was relocated to 251, Yishun Avenue 3 on 6th September 1996. Its ground breaking ceremony was officiated by the then Senior Parliamentary Secretary to Home Affairs and Law Ministries, Associate Professor Ho Peng Kee, on 10th July 1994.
The then Prime Minister Mr Goh Chok Tong graced the occasion to offficially start off the Ornamental and Sculptural Works in December 1996.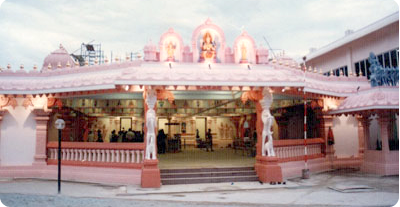 The Temple was consecrated on the auspicious date of 18 May 1997, with tens of thousands of devotees and well-wishers joining Mr Lim Boon Heng, the then Secretary General of NTUC and Minister-Without-Portfolio to witness it.
Since then the Temple has not looked back. Transforming the present vicinity into an important religious and social focal point for more than a decade, the Sree Maha Mariamman Temple has brought relevance to our national objectives by fostering closer ties amongst multi-religious and multi-racial organizations, assisting and promoting greater social integration amongst newcomers and locals and by playing a community role in conducting and participating in various community events.
The Temple is also an active partner with the many community clubs and charitable organizations engaging citizens in whatever way it can, promoting inter faith and cultural understanding.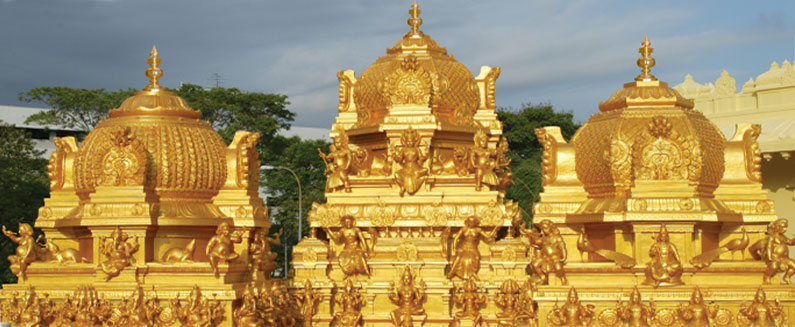 The Sree Maha Mariamman Temple has come a long way in establishing itself as an integral component of both the Hindu community and Singapore at large. With the enormously successful recently concluded Grand Consecration Ceremony on 18th April 2010, our vision is to continue the excellent cultural exchange programmes with the various grassroot organisations, community clubs, resident committees, charitable societies and religious centres. We aim to work towards the establishment of a library dedicated to the research on Hindu Scriptures, an orphanage for the less fortunate and a spiritual sanctuary for our elderly devotees.